Luxury self build or new build?
You could spend a lifetime searching for your dream home. We all want the south facing garden, the family kitchen, entertaining space, luxurious living spaces, I could go on. It's unlikely you'll find all of your criteria, location and specification in one home, particularly on the new build estates.
You could however build a bespoke, individual, luxurious, statement home which encompasses everything you could ever wish for.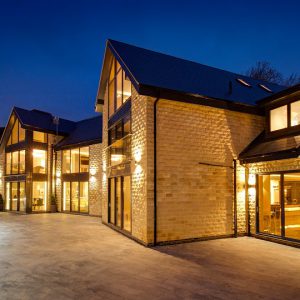 Self-build homes are a popular choice amongst the select few who opt to create something unique to them and their families, opposed to settling on an often compromised new build.
This is often because building a home often never springs to mind in spite of the fact that self building is often cheaper and offers a greater return on investment. Your home is unique, there is little or no compromise and you can choose the perfect location. Most of us intrinsically have a desire to create a luxury, modern, statement home, or simply take inspiration from Channel 4's, Grand Designs, grab our hard hats and get our hands dirty.
Make no mistake, self-build can be a tougher task than buying a home from a developer or another owner. Self-building has got easier in recent years, especially since the government relaxed some planning criteria and has prioritised home building. There has never been a better time to create the home of your dreams. Plus, at least there's no fear of the upward chain holding up the purchase.
Kevin McCloud, TV presenter on Grand Designs once said, much of the housing stock in the UK is made up of 'identikit Noddy houses built at the lowest possible cost.' He explained, 'Self-build is greener and empowers people more. It can create communities and makes houses a reflection of their owners.'
Self build with Guy Phoenix
Depending on where you live in the UK, your main choices when buying a house in the UK are a fairly standard new-build, or an older building.
With today's new builds you're quite likely to have upwards of five neighbours bordering your property in close proximity too.  The costs and timeframes to remodel and fix are often longer and more costly than building from scratch; once stamp duty for a traditional purchase and the house fee is taken into account.
By constructing a self-build property with Guy Phoenix, you are guaranteed a finish of the highest quality. You will also be able to stamp your own design and tastes on the property and choose your ideal location.
Partnering with us can help overcome barriers such as planning permission. We're experts in planning law for substantial developments and can help simplify the process.
Sources: Thisismoney, Daily Mail